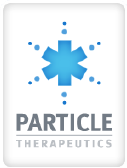 Particle Therapeutics (PT) is an Oxford-based veterinary drug and vaccine delivery company, focused on the development and application of our proprietary vaccine particle formulation and needle-free delivery technology. Its innovative particle-delivery technologies and particle formulations promise to improve the efficacy and administration of both human and veterinary vaccines.
Particle Therapeutics' technologies deliver highly-engineered vaccine particles into the skin using hand-held single-use or multi-use devices. The needle-free delivery devices use high-speed gas to accelerate the particles into the skin and deliver them to a shallow depth where they become biologically available without causing either bleeding or pain.
In late 2020 PT entered into an agreement with Particle Vaccines Canada Limited (PVCL) whereby PT exchanged its knowledge, expertise and intellectual property in the human vaccine field for equity in PVCL. Mike Adlam, PT's Chief Executive, is part of the PVCL Management Board. PVCL are looking to develop needle-free human vaccines with the initial focus being Covid-19.
The agreement with PVCL leaves PT free to focus all of its efforts on animal vaccines whilst at the same time provides us with access to any, and all, of the developments that PVCL may make with regards to particlisation and delivery devices. PT's initial focus is on high subject-volume, agricultural veterinary applications but the technology also has value for the vaccination of companion animals.